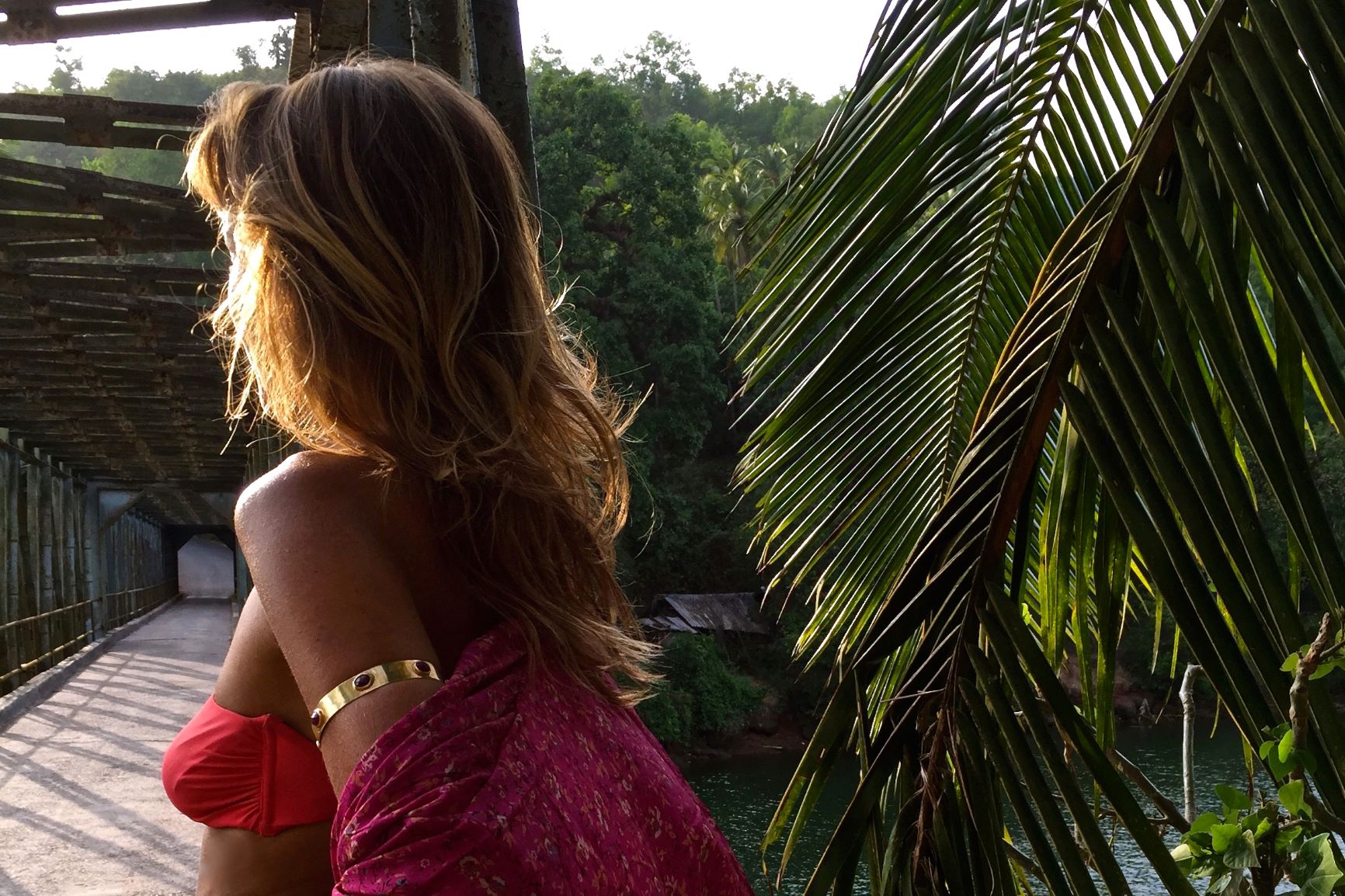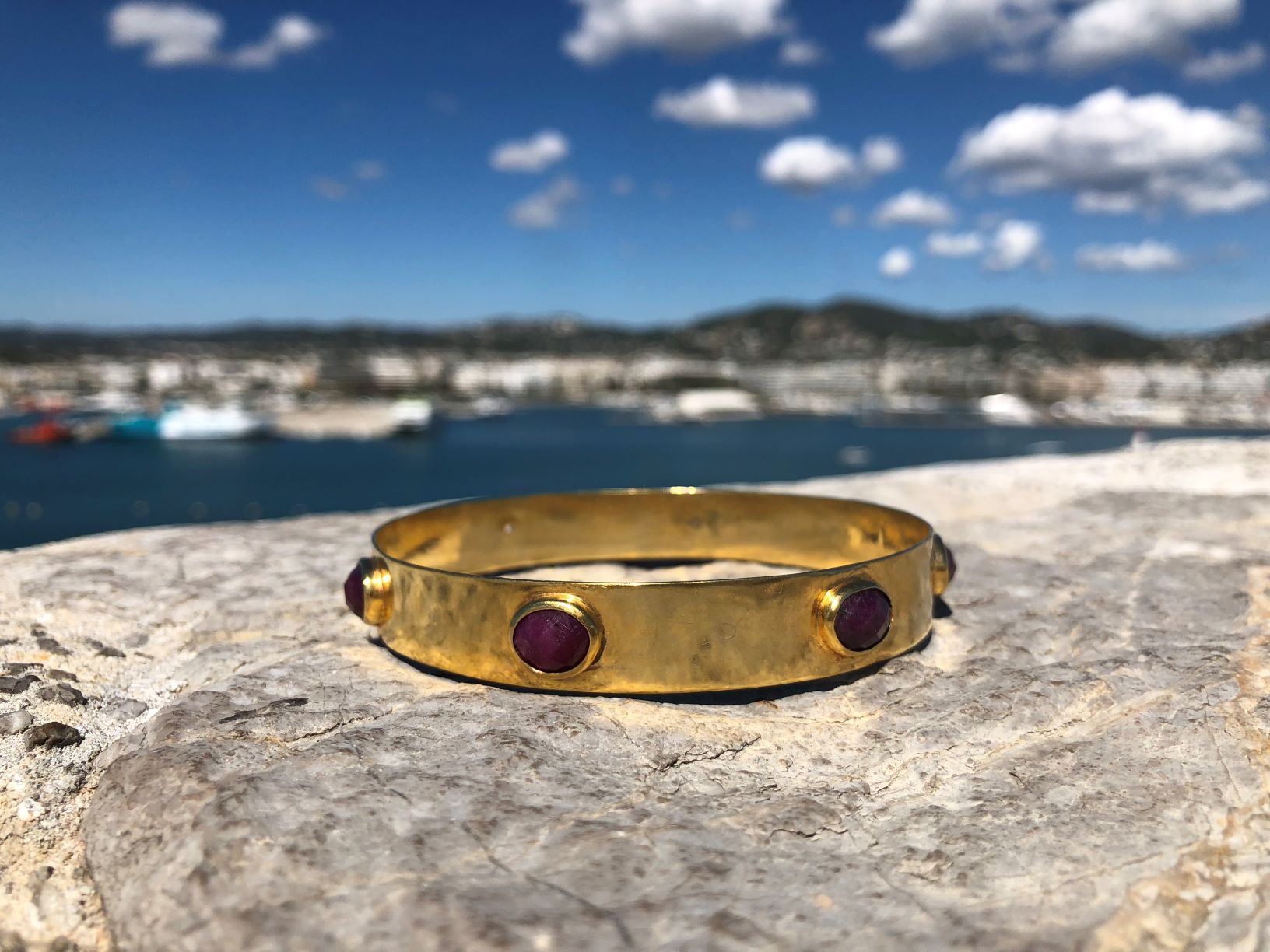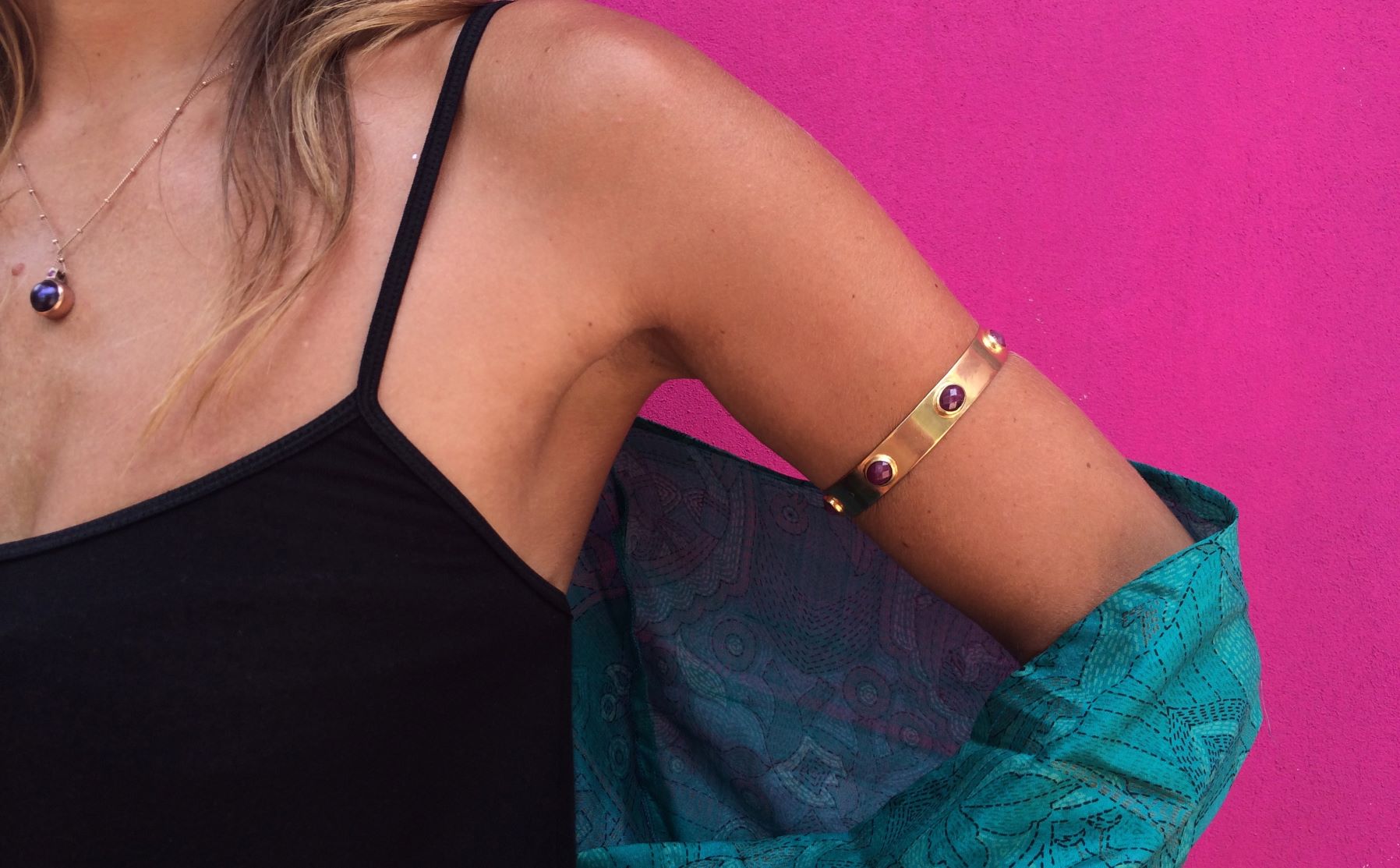 Warrior Greek Goddess Seven Ruby Armband
Scan the QR Code to view this product virtually in your space... 
The Greek Goddess Ruby Corundum Arm Cuff from Warrior Collection. I love this piece. It is the first piece of jewellery I ever made in a workbench in South Goa, hanging out with the Bengali goldsmiths.

This stunning piece is made to order. Please allow minimum six weeks for delivery. Handmade from sterling silver and six Indian corundum rubies, polished finished with gold vermeil.
Story of this Armband 
As I do with all my jewellery, I made this piece for myself. A design I created to inspire self-love and conviction. I was facing a lot of personal adversity and I needed something to remind myself that I am a worthy being. A powerhouse full of limitless strength and courage, and worthy of great things. Et voilà, the Greek Goddess Armband was born. 
Ruby Magic
Ruby is the birthstone of the most famous Roman Emperor, Julius Caesar. A zealous, entertaining, and notoriously strong character, demanding of loyalty, he exemplified the qualities of this royal gem. It's coveted for its bright, fiery, red colours and lustrous warmth, making her the most popular red gemstone in the gem world.
The ruby is revered and yearned for, a symbol of love, passion, protection, prosperity and courage. She opens the heart chakra, heals the soul, evoking powerful feelings. Ruby vibrates a strong energy for love and sensuality, making her a wonderful gemstone for an engagement ring. Ruby is the perfect wedding gemstone and is gifted at 40th anniversaries as a gem of deep and true love. This is an excellent choice to gift your loved one or to simply gift yourself.
Warrior Philosophy 
Being an avid supporter of female empowerment, I adorn the female warrior within you through creating powerful jewellery. To decorate you and praise your inner warrior that resides in each and every one of you and wear your jewellery with powerful meaning and intent. Look and feel good. And change the world while you're at it!
Ruby Vibes
Chakras - Base Chakra, Heart Chakra
Birthstone - July
Zodiac - Aries, Cancer, Leo, Scorpio, Sagittarius
Typical colours - Pinkish-red to red
Anniversary 
Ruby is a 15th and 40th anniversary gemstone
Ruby Healing
Integrity. Happiness. Healing. Courage. Passion. Inspiration. Energy. Power. Leadership.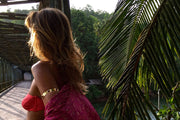 Warrior Greek Goddess Seven Ruby Armband