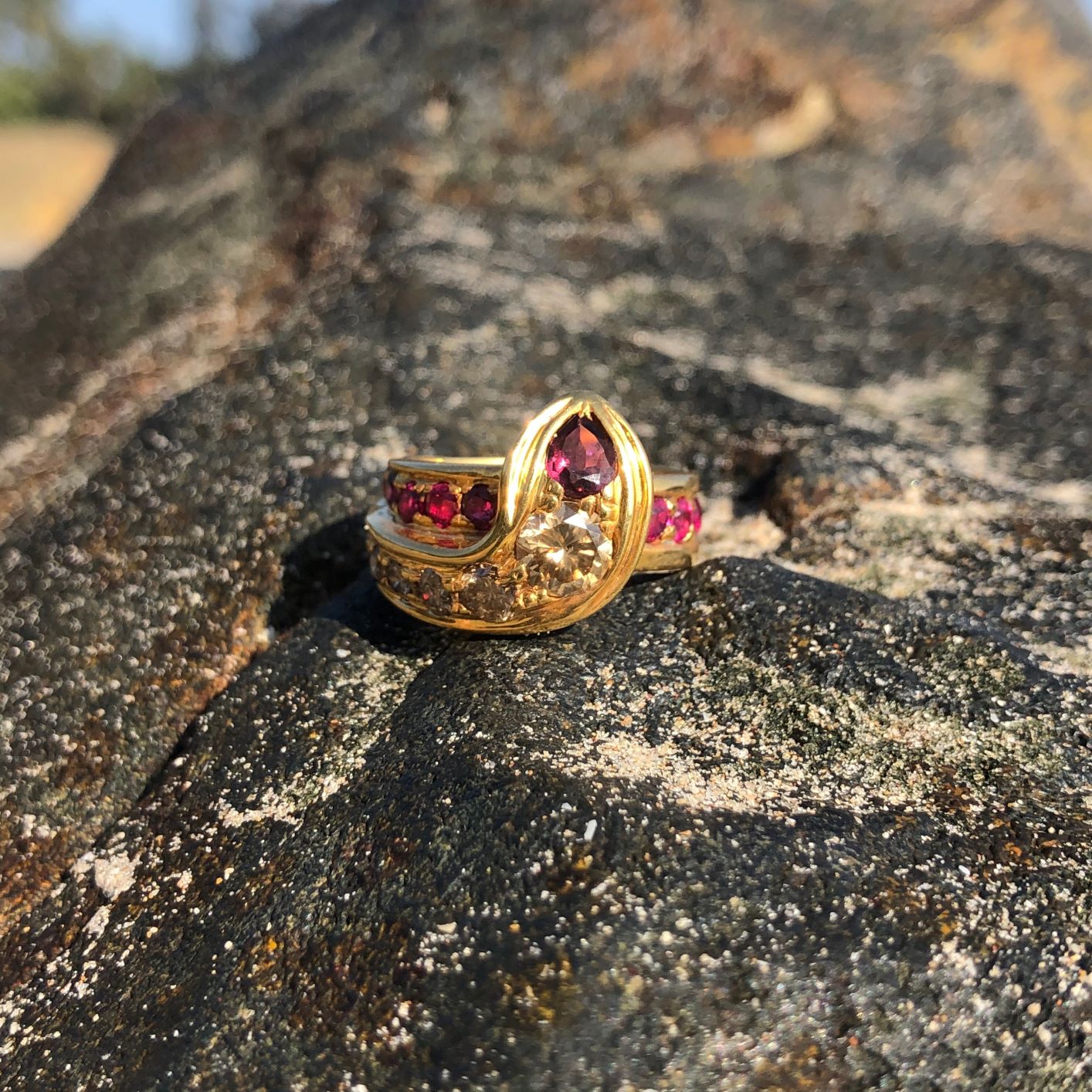 Champagne Diamond, Ruby & Pink Tourmaline Snake Ring
Scan the QR Code to view this product virtually in your space...
Queen Cobras Champagne Diamond, Ruby and Pink Tourmaline Snake Ring.
This exquisite snake ring has an explosion of 1.5 carats of precious champagne diamonds and 1 carat of rubies set from the crown of the head all the way down the snake's spine to the tail. The detail of each gem set and unique engraving is truly breathtaking. Finished with a pear drop pink 30. points of pink tourmaline in the nose.
Hand-carved from wax and cast in gold, this piece has been lovingly made with the intention to celebrate your Divine, true self. A very special piece of jewellery created to inspire the treasure tower and beauty that already exists within you.
Materials 
18 carat gold.
Please allow minimum 6 weeks for delivery. 
Available in opal, diamond, sapphire, emerald and ruby gemstones. price may vary. 
Please email us for further details

Divinity Collection Philosophy 
This snake ring is a stunning statement piece of jewellery to symbolise your highest self. We hold the power and beauty of the stars in our DNA and this ring is here to remind you of that. 
Diamond Vibes
Chakras - Crown Chakra
Birthstone – April
Zodiac - Aries, Taurus, Leo
Diamond is a 60th Anniversary gemstone
Diamond Healing
Purity. Harmony. Love. Abundance. Prosperity.
Ruby Vibes
Chakras - Base Chakra, Heart Chakra
Birthstone – July
Zodiac - Aries, Cancer, Leo, Scorpio, Sagittarius
Typical colours - Pinkish-red to red
Ruby 15th and 40th anniversaries
Ruby Healing
Integrity. Happiness. Healing. Courage. Passion. Inspiration. Energy. Power. Leadership.
Pink Tourmaline Vibes - also known as Rubellite
Chakras - Heart Chakra
Birthstone - October
Pink Tourmaline Healing
Flexibility. Happiness. Objectivity. Compassion. Serenity. Balance. Positive transformation. Healing. Strength. Tolerance. Understanding.
Champagne Diamond, Ruby & Pink Tourmaline Snake Ring