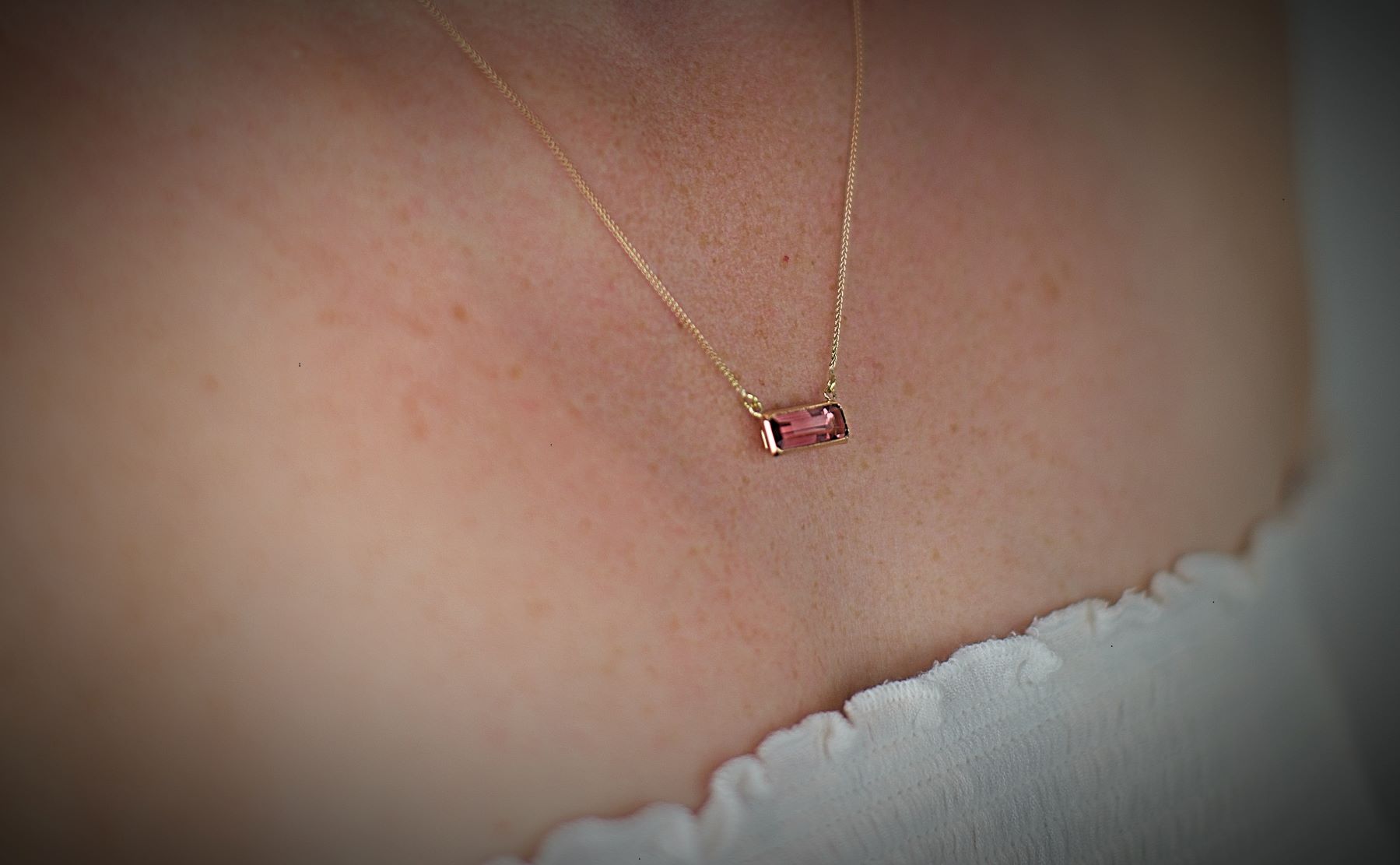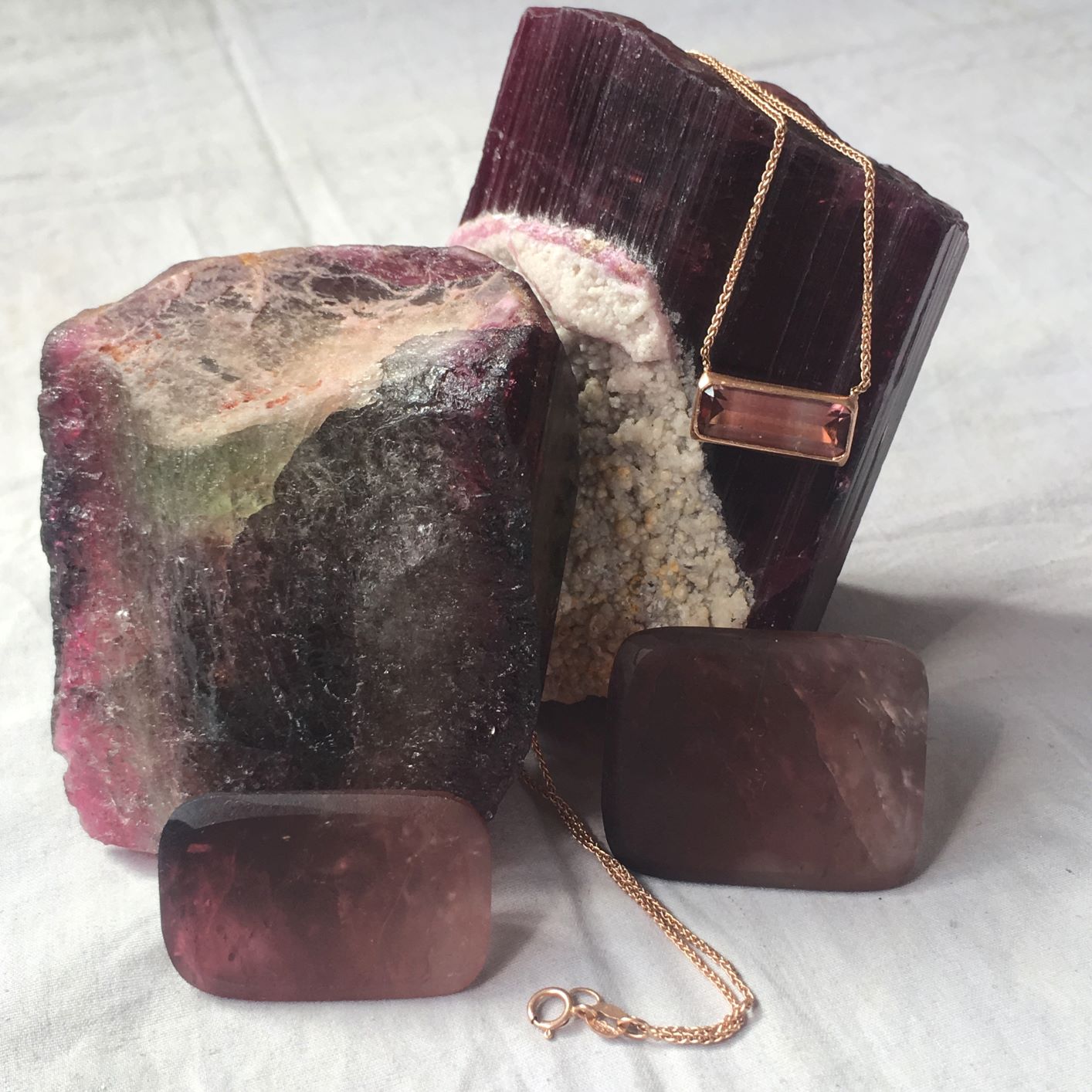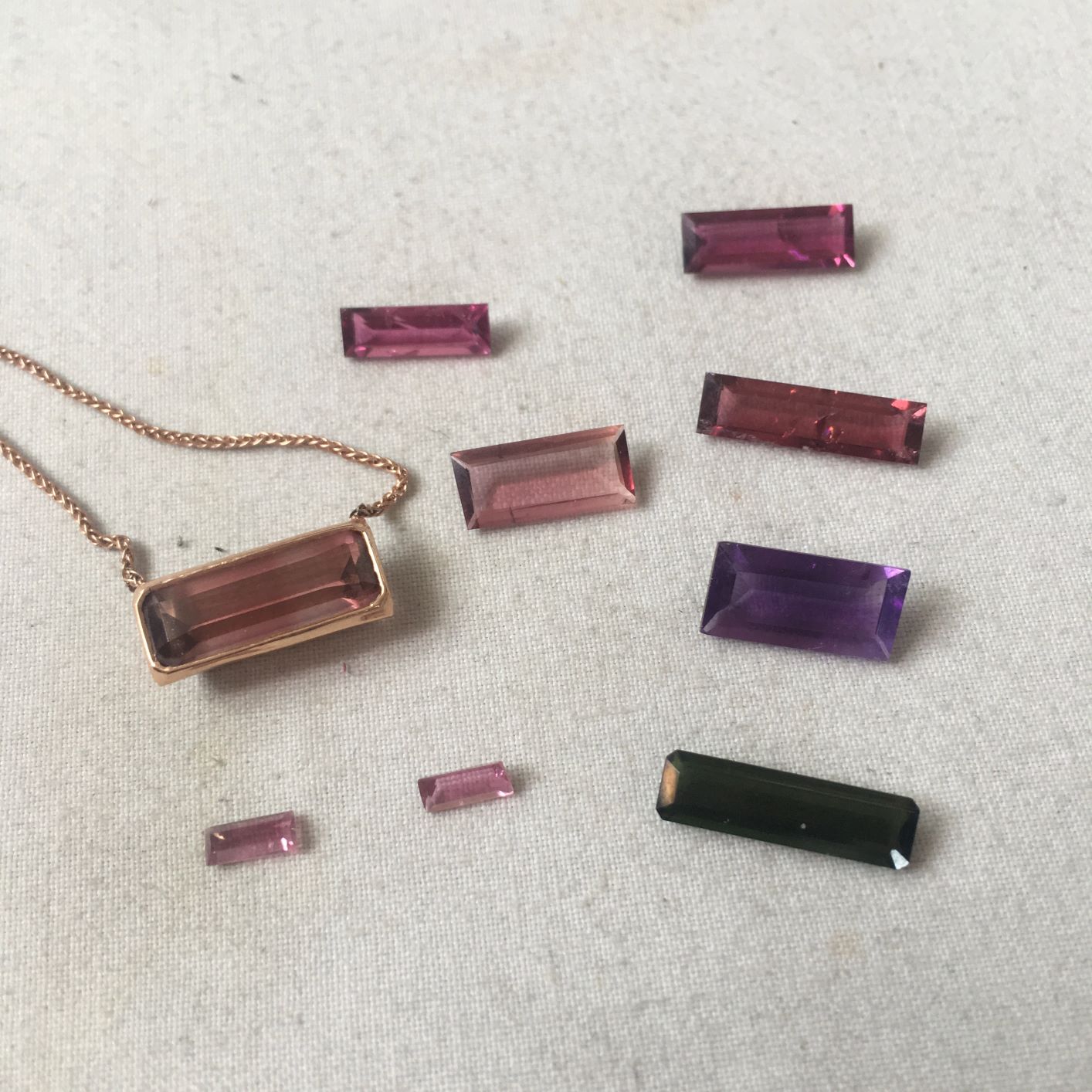 Rose Gold & Pink Tourmaline Pendant
Scan the QR Code to view this product virtually in your space...
Exquisite and Rare Pink Tourmaline 18 carat rose gold pendant. This stunning bi-colour pink tourmaline hangs decadently off a carat rose chain, encased in a rose gold hand carved setting. Four carats of flawless dusty pink tourmaline decorates and vibrates healing energy on your heart chakra. 
This pendant is made to order. Please allow minimum 6 weeks for delivery. This design is available in other gemstones. Please contact us for further details, price may vary. Tourmaline gemstones of this size and colour are one-off pieces. Prices may vary on which stone I can source for you. 
Story of this Tourmaline Gemstone
Here is my pink tourmaline pendant that I made for myself. Hanging off thousands of carats of rough tourmaline straight from the ground. Brazilian tourmaline, watermelon tourmaline and Congo tourmaline.
I took my pendant all over Jaipur to search for this stunning material so I could make a limited edition collection pendant.
I searched high and low in gem factories across Jaipur with sheer determination to find this gemstone again. 
I had raw material cut, sized, sampled - and still nothing was right. Tears! That is when I realised that this piece of pink tourmaline I bought for myself truly is a one off piece and I was lucky to find her, buy her and now she has become priceless to me.
Something I always say to my clients, your jewellery is an investment in you, not an expense.
This epic gem hunt also taught me that when I find something that I really love, grab it with both hands. This is the gem industry. It is in constant flow. And when something unique is gone, it's gone forever. 
If you're drawn to something, trust it will make you happy for a long time, like my pendant has for me. It is like finding 'the one'. 
I say this to all of my clients - "go for what you naturally gravitate to, because that is what you need in your life and it will make you really happy". 
When I saw this gem she jumped out at me. I knew I wanted her. She resonated something within me and I knew she had something for me that I needed. I went away, researched her magical healing properties and it was everything I needed for where was in my life at that time. I bought her, made her, and wore her and each time I am asked to make her again. 
I wear this beautiful pink healing tourmaline pendant with powerful and loving intention. 
Tourmaline Magic 
Pink tourmaline strengthens your will to understand love and will guide you to create from and go towards loving vibrations. She stimulates healing qualities of the heart and the associated attributes of loving consciousness. Through activating loving energies she will help you feel more self-confident and diminish your fear. 
This ring is symbolic of your truth that you ARE the treasure. Like the snake, you too can transform your heart and mind towards eternal happiness and beauty. 

Pink Tourmaline Vibes - also known as Rubellite
Chakras - Heart Chakra
Birthstone - October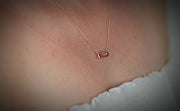 Rose Gold & Pink Tourmaline Pendant