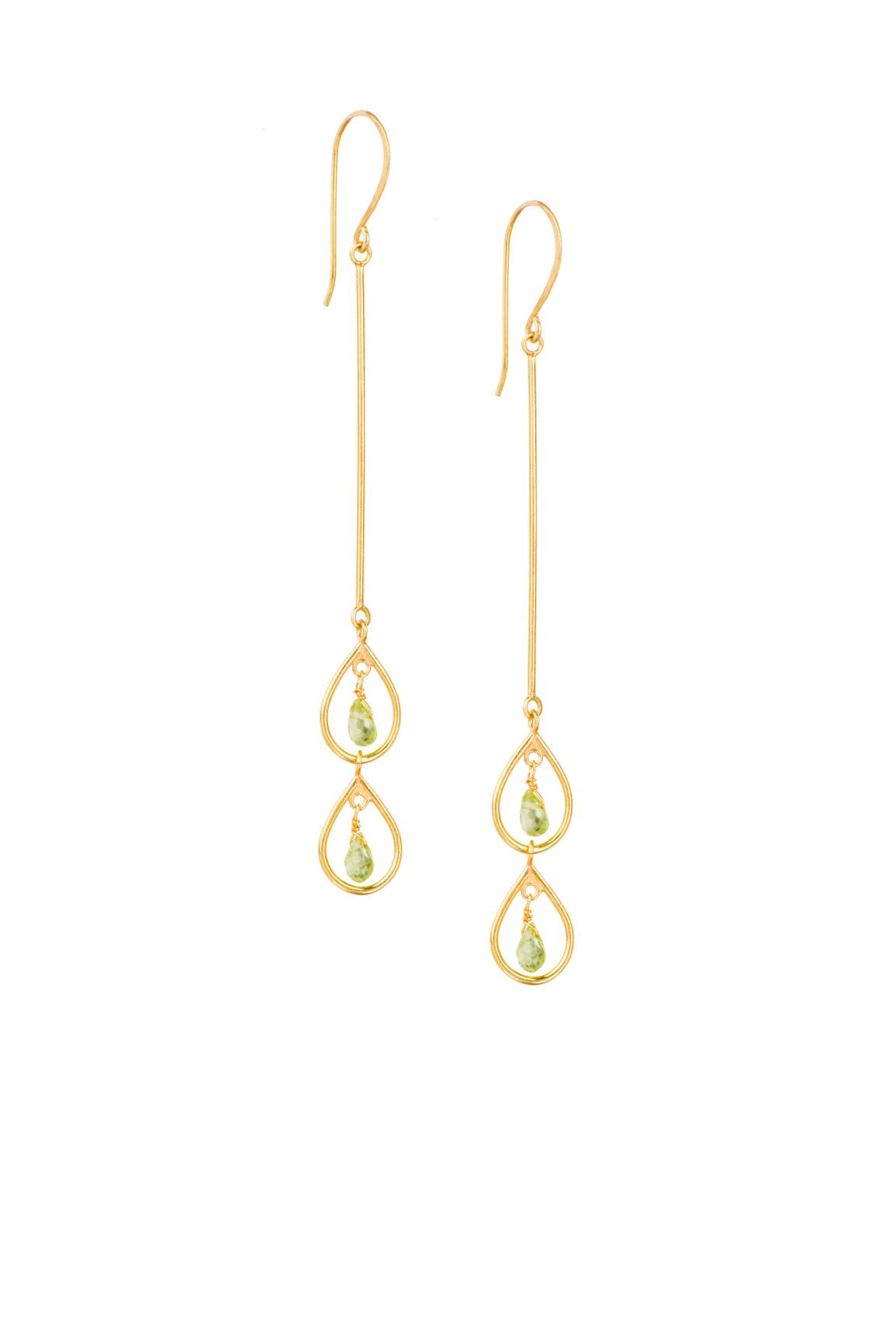 Peridot Dew Drop Earrings
 Scan the QR Code to view this product virtually in your space... 
These Peridot Dew Drop Earrings feature four beautiful, hand-cut, natural peridot gems. As these stunning peridot earrings drop hang elegantly above the collarbone they shimmer in the natural sunlight as if catching the morning dew. 
Our Peridot Dew Drop Earrings match beautifully with our Peridot Empress Ring from Regal Collection, Jaipur Princess Necklace and Peridot Knuckle Ring from Jaipur Princess Collection. 
Handcrafted from silver and finished with polished gold vermeil.
Peridot Magic
Peridot emits a warm and friendly energy. A wonderful cleansing gem to stimulate the heart and solar plexus chakras. She will open you up to love and new relationships. She will inspire happiness within yourself and help you embrace the uniqueness of your preciousness of your life and steer you away from feeling jealous, bitter, or resentful towards others. She will assist you in taking charge of your own life and making it want you want it to be rather than looking at others and wishing you had their treasure. She will compassionately help you find your own. Usually, our own treasure is right where we stand! You just have to start digging beneath the surface to find it.
Jaipur Princess Collection Philosophy 
Jaipur is known as the 'Pink City' in India. The whole city is painted in a beautiful dusty pink and is abundant with the most exquisitely beautiful Indian women. Like individually beautiful flowers, they decorate the streets wearing exquisite Rajasthani jewellery. Every piece they wear looks original yet has this historical style and unique detail. Indian women decorate and celebrate their bodies with jewellery from head to toe. Their bodies are like floating temples of gemstone jewellery, a walking treasure box and a feast for the eyes. Every piece they wear has a very pretty attention to detail.
I named this collection Jaipur Princess to echo the youthful elegance and beauty of these mysterious Rajasthani princesses, who glide the streets of the dusty pink city, Jaipur. Each one of us is a princess inside. Each design has a subtle touch of this unique and individual Rajasthani-style of jewellery.
Anniversary 
Peridot is a 16th anniversary gemstone
Peridot Vibes
Chakras - Solar Plexus Chakra, Heart Chakra
Birthstone - August
Zodiac - Gemini, Leo, Virgo, Scorpio, Sagittarius
Typical colours - Olive green, bottle green, yellowish-green

Peridot Healing
Healing. Love. Transformation. Rejuvenation. Cleansing. Rebirth. Personal Growth. Awakening.
Peridot Dew Drop Earrings