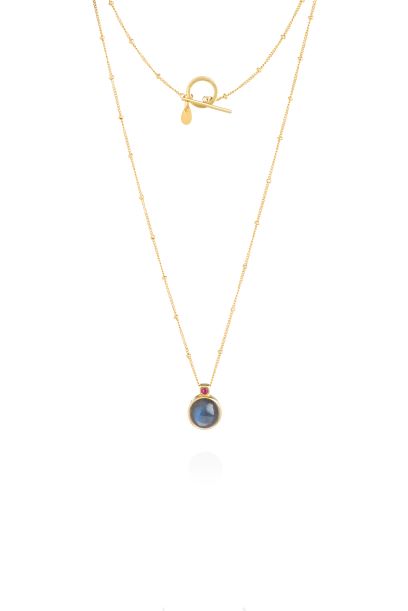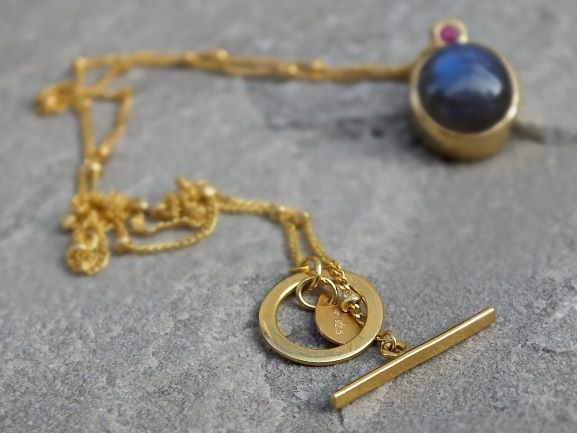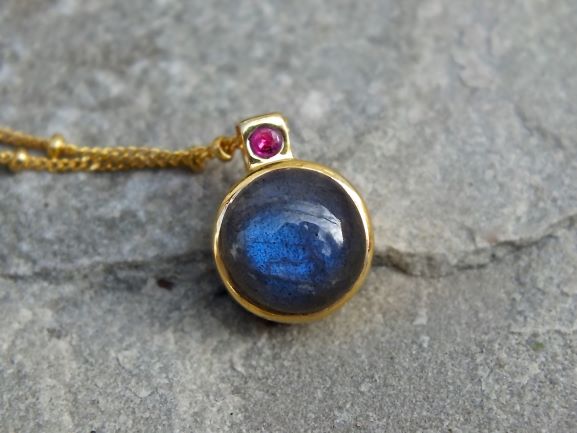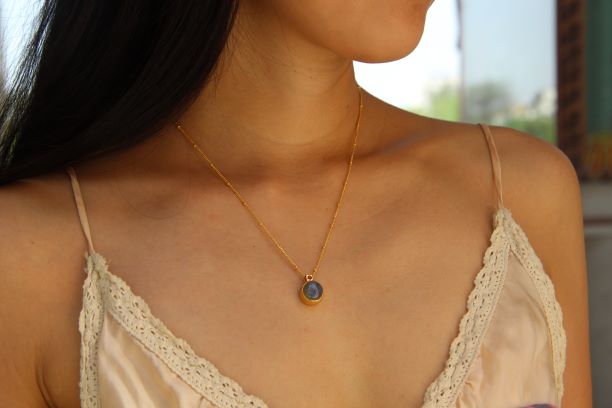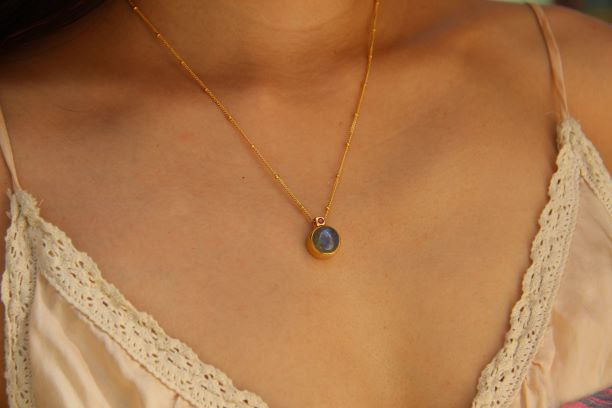 Silver & Gold Labradorite and Burmese Ruby Pendant
Scan the QR Code to view this product virtually in your space...
Our Labradorite and Ruby Pendant features a beautiful cabochon cut, natural labradorite gemstone and natural Burmese pink ruby. A stunning combination of colours. This resplendent labradorite gemstone shimmers in the light, flashing colours of deep indigo, blue, purple hues, just how you witness the stunning peacock fluttering its iridescent feathers in the sunlight.
Our Labradorite and Ruby Pendant looks beautiful worn with our Labradorite Hook earrings and Labradorite Bracelet.
Handcrafted silver pendant decadently hangs from our signature silver chain, finished with gold vermeil. Perfect for every day or to dress up.

Labradorite Magic
If you find that you are drawn to wearing labradorite, it is simply because you need to have her in your life. Labradorite awakens you to your deep, inner consciousness. Your inner realm where your creativity and unique potential has infinite possibilities. She is a gem of magic, wonder and utter beauty and is here to assist you in discovering your wildest dreams.

Ruby Magic
Ruby is all about the heart chakra. A gemstone to heal the heart helping you to love yourself and others. Ruby has been revered and yearned for throughout history. A gem symbolic of love, passion, protection, prosperity, and courage. She opens the heart chakra, heals the soul, and vibrates a strong energy for love and sensuality, making her a wonderful gemstone for an engagement ring. 
Love and courage are the ingredients we need to bring our dreams and happiness to a beautiful reality and loving ourselves enough to do this is key. 
Ruby is the perfect wedding gemstone and is gifted on 15th and 40th anniversaries as a gem of deep and true love.
Opulence Philosophy
I created the Opulence Collection to inspire and celebrate women in their natural, feminine beauty. Natural gemstones hold inclusions. Each gem symbolises your unique beauty – no tweaks, no changes – just you, as you are, in all of your natural, flawsome, glorious beauty.

Labradorite Vibes
Chakras - Throat Chakra, Third Eye Chakra, Crown Chakra
Zodiac - Leo, Scorpio, Sagittarius
Typical colours - Pale green, blue, colourless, grey-white: with iridescent blue, gold, purple flashes
Labradorite Healing 
Transformation. Will Power. Stimulates imagination. Calming. Creativity. 
Ruby Vibes
Chakras - Base Chakra, Heart Chakra
Birthstone - July
Zodiac - Aries, Cancer, Leo, Scorpio, Sagittarius
Typical colours - Pinkish-red to red
Anniversary 
Ruby is 40th Anniversary gemstone 
Ruby Healing
Integrity. Happiness. Healing. Courage. Passion. Inspiration. Energy. Power. Leadership.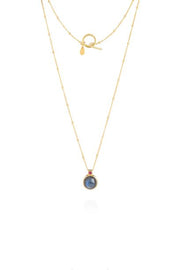 Silver & Gold Labradorite and Burmese Ruby Pendant