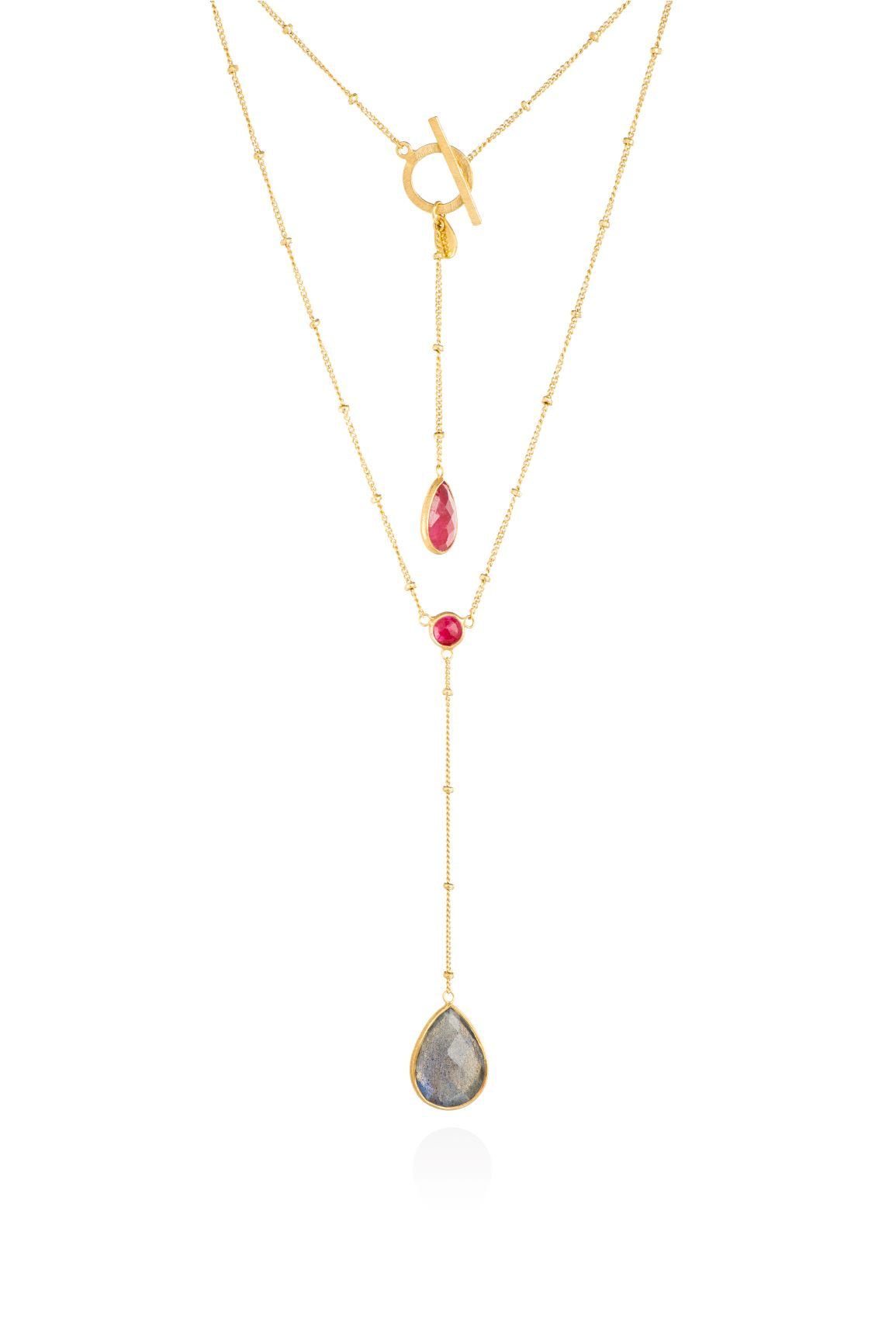 Labradorite & Ruby Pear Drop Necklace
Scan the QR Code to view this product virtually in your space...
Ruby and Labradorite Pear Drop Necklace. Featuring two stunning, hand-cut, faceted rubies and an exquisite, indigo-coloured, natural labradorite gem.
The indigo-coloured gem hangs delicately on the neckline to the cleavage with a pretty ruby detail hanging down the nape of the neck. An exquisite necklace designed to elegantly decorate the neckline and shoulders.

A stunning combination of colours. This resplendent labradorite gemstone shimmers in the light, flashing colours of deep indigo, blue, purple hues. Just like you see when the peacock flutters its iridescent feathers in the sunlight.
Wear this labradorite and ruby choker with our Labradorite Hook Earrings, and Labradorite Bracelet, Labradorite Hook Earrings, Ruby Studs and Ruby Short Drop Earrings.  
Creating a striking and original look, you can wear this necklace with a simple summer dress, or dressed up to kill for that very special occasion. 
This stunning handcrafted pendant decadently hangs from our signature silver chain, finished with gold vermeil. 

Necklace 14.5 inches around the neck.
Labradorite Magic
If you find that you are drawn to wearing labradorite, it's simply because you need to have her in your life. She is a gem of magic and wonder, here to assist you in discovering your wildest dreams. Ruby is the heart chakra. A gemstone to assist you with courage and self love. All the ingredients we need to bring our dreams to a beautiful reality.
Ruby Magic
I chose rubies to symbolises the heart chakra. The most important part of all of us.
Loving, healing and accepting ourselves, just as we are. A crucial process that takes the heart of courage to embrace the good, the bad and the ugly and still awaken to the truth that we are stunning divine creations of the universe.
Opulence Philosophy 
I created the Opulence Collection to inspire and celebrate women in their natural, feminine beauty. Natural gemstones hold inclusions. Each gem symbolises your unique beauty – no tweaks, no changes – just you, as you are, in all of your natural, flawsome, glorious beauty.
Labradorite Vibes
Chakras - Throat Chakra, Third Eye Chakra, Crown Chakra
Zodiac - Leo, Scorpio, Sagittarius
Typical colours - Pale green, blue, colourless, grey-white, with iridescent blue, gold, purple flashes
Labradorite Healing
Transformation. Strengthens our will. Stimulates imagination. Calming.

Ruby Vibes
Chakras - Base Chakra, Heart Chakra
Birthstone - July
Zodiac - Aries, Cancer, Leo, Scorpio, Sagittarius
Typical colours - Pinkish-red to red
Ruby Healing
Integrity. Happiness. Healing. Courage. Passion. Inspiration. Energy. Power. Leadership.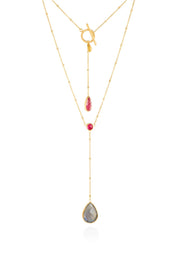 Labradorite & Ruby Pear Drop Necklace