Blue Quartz Long & Short Drop Earrings
Scan the QR Code to view this product virtually in your space...
Blue Quartz Shoulder Duster Earrings. Featuring two exquisite hand-cut, faceted blue quartz gemstones.

These stunning, deep sea coloured electric blue quartz drop earrings are available in two lengths. Hanging decadently to your jaw line or just above your collarbone. They beautifully match our Triple Drop Blue Quartz Necklace.
Creating a striking and original look, you can wear these earrings with a simple t-shirt, jumper, summer dress, or dressed up to kill. 

Matte finish bezel with our signature silver chain and gold vermeil.
Available in 8cm and 4cm length.
Blue Quartz Magic
Clear Quartz is known as the 'master healer' said to bring the energy of the stars into the soul. Ancient priests used clear quartz crystals to transform negative energy, dissolve spells and destroy all black magic and known to be worn in the breastplates of high priests. 
Blue Quartz has all the general properties of Quartz and extra special qualities due to its colour. Blue Quartz is a calming stone which protects you from negativity. Alleviates fear, thus she enhances creativity and self-expression. She has the effect of balancing the throat chakra and assists you in clear communication when reaching out to others.

As blue quartz is a gemstone known to activate the throat chakra, she will help you release your fears of speaking out. As she helps you lose your inhibitions, she will automatically help you stimulate new relationships, allowing you to feel the joy of being and feeling secure and independent. She helps you see fear for exactly what it is – an illusion! A wonder of a gem, here to help you break free from your internal shackles and aid excellent emotional healing. 
Opulence Collection Philosophy
I created the Opulence Collection to inspire and celebrate women in their natural, feminine beauty. Natural gemstones hold inclusions. Each gem symbolises your unique beauty – no tweaks, no changes – just you, AS you are, in all of your natural, flawsome, glorious beauty.
Quartz Vibes
Chakras - Crown Chakra , Throat Chakra
Birthstone - April
Zodiac - All signs
Typical colours - Pure Quartz is colourless or white, pink, blue, smoky, yellow

Blue Quartz Healing
Emotional healing. Happiness. Peace. Creativity. Self-expression. Communication. Clarity. Harmony. Meditation.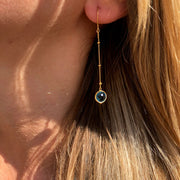 Blue Quartz Long & Short Drop Earrings