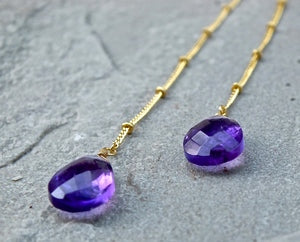 Amethyst Long & Short Drop Earrings
Scan the QR Code to view this product virtually in your space...
Amethyst Shoulder Duster Earrings. Featuring two natural, exquisite hand cut, faceted amethyst gemstones. 
 These beautiful, purple pear drop amethyst earrings are available in two lengths. They can hang decadently to the jawline or just above the collarbone.
Creating a striking and original look, you can wear these earrings with a simple t-shirt, jumper, summer dress, or dressed up to kill. 

Polish finish with our signature silver chain and gold vermeil.
Available in 8cm and 4cm length.
Opulence Philosophy 
I created the Opulence Collection to inspire and celebrate women in their natural, feminine beauty. Natural gemstones hold inclusions. Each gem symbolises your unique beauty – no tweaks, no changes – just you, as you are, in all of your natural, flawsome, glory and beauty.
Amethyst Magic 
Amethyst was once worn on the breastplates of High Priests and known as a 'stone of spirituality and contentment'.
She is a wonderful facilitator to help you transform your lower energies into higher frequencies of both the spiritual and ethereal levels. A stone that represents the process of complete metamorphosis, she is the butterfly of the gem world. She will encourage you to spread your wings in a glorious display of beauty. Emerge from the darkness of your cocoon into your full divine flight.
Also known as a wonderful gem for meditation, she opens and activates your crown chakra acting as an excellent conductor for peace, calm and tranquility. Amethyst is a gem with deep healing and cleansing powers and historically known to help free you from addictions to substances and people. She helps clear negative, intoxicating energies and behavioural patterns.
Amethyst Vibes
Chakras - Third Eye Chakra, Crown Chakra
Birthstone - February
Zodiac - Virgo, Sagittarius, Capricorn, Aquarius, Pisces
Typical colours - light violet to deep purple
Healing with Amethyst
Spiritual awareness. Attunes psychic abilities. Positive transformation for healing of the body, mind and soul. Meditation. Balance.
Anniversary 
Amethyst is a 6th anniversary gemstone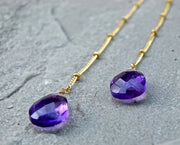 Amethyst Long & Short Drop Earrings