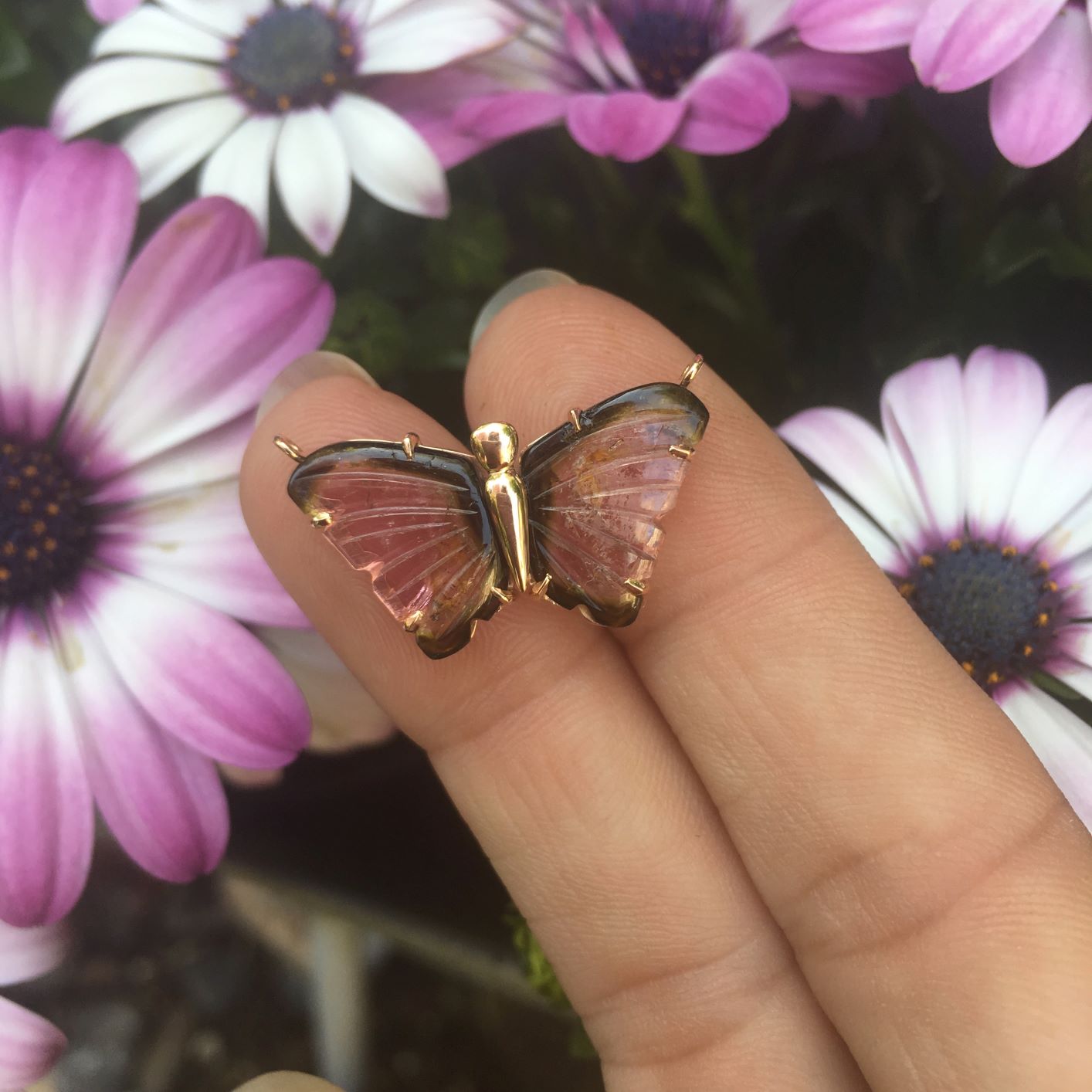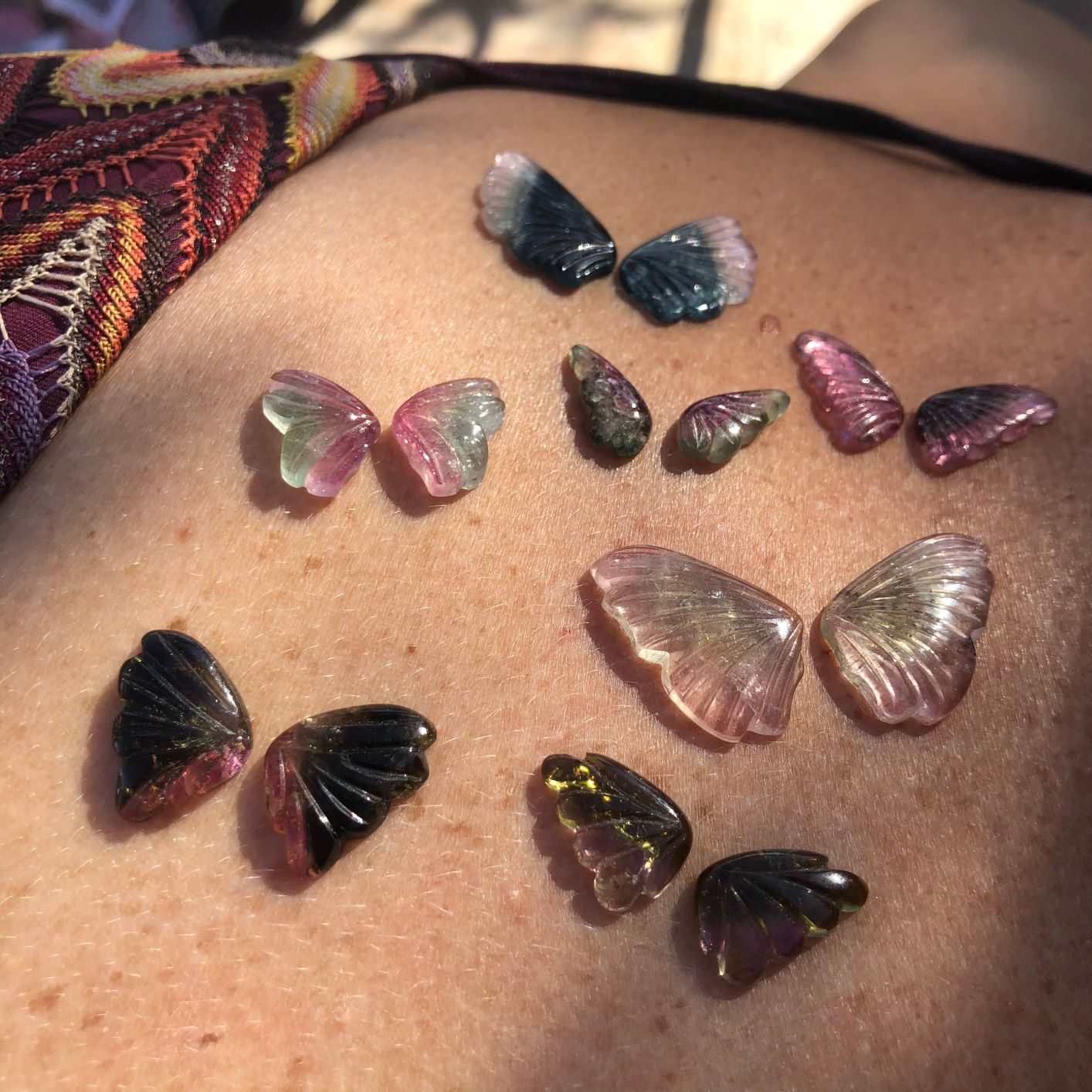 Limited Edition Bi-Colour Tourmaline Butterfly Gold Pendant
Scan the QR Code to view this product virtually in your space...
'Just when the caterpillar thought the world was over, she became the butterfly'.
Stunning one-off tourmaline butterfly wings are captured and set in precious gold, hanging from a solid gold chain. Each set of wings is a different size and weight of bi-colour tourmaline gemstone. 
This piece is made to order. Please allow minimum 6 weeks for delivery. Tourmaline gemstones of this size and colour are one-off sets of wings. Prices may vary. 
Butterfly necklace prices start at £1,500. Each set of wings are different prices according to weight. POA. 
Butterfly Collection Philosophy
I love this butterfly pendant, I wear her every day. We have a lot to learn from the caterpillar and the butterfly. Nature is always showing us the power of how we too, could be, in every moment. This necklace is my reminder, never get stuck in the darkness. I have wings. I can free myself at any moment. 
I carefully selected each set of hand carved tourmaline butterfly wings to represent the transformation of ourselves on the most profound level. Symbolic of our very own inner transformation from our own dark cocoon into the butterfly.
Life can be a succession of highs and lows and sometimes a wondering abyss. At the fine age of 40, if there is one thing I have learned on the journey of my own highs and lows, is that it is always darkest before dawn. 
That is why I chose this latest limited edition collection to symbolise this very process. It's a wonderful and beautiful reminder that if nature can do it, then so can we.
However, often the process of transformation isn't so easy. It can be scary and leave you wondering if things will ever change. But just as winter always turns to spring, those who walk the path of personal growth cannot fail to come the other side in the end.
The shining tourmaline butterfly is a symbolic reminder of who you really are and the beauty and freedom you are capable of achieving within yourself and the world at large. 
Everything can transform. It the law of the universe, if you just look at the caterpillar and the butterfly.

Tourmaline Magic
Tourmaline relates to and stimulates each energy centre of each chakra. She acts to clear, maintain and stimulate all of the energy centres of the body. She will diminish fear and encourage self-confidence, balancing your male and female energies within the body, your yin and your yang. In ancient Eastern Indian culture, tourmaline was used to bring direction towards what would bring 'good' for you. A gemstone used to stimulate the balance between the left and the right sides of the brain she naturally enhances your creativity and healing.
She will help you look within the depths of your being with belief in the reality of your inner world. Self belief is everything, and it is key for inner transformation. Tourmaline will help release yourself from the victimhood of your personal 'cocoon' helping you develop strength to break free with joy and laughter, while you gain greater spiritual awareness.
African Shamans used tourmaline to awaken people to the experience of the self as part of the universal spirit. We are one. And when we realise everything we want to be do and have is possible, laughter ensues.
A great gemstone used for positive affirmations to programme and create the new, true self.
Anniversary 
Green tourmaline is an 8th anniversary gemstone 
Tourmaline Vibes
Chakras - (depending on colour)
Zodiac - Virgo, Libra
Typical colours - Most commonly black, but can range from brown, violet, green, pink, or in a dual-coloured pink and green (watermelon).
Healing with Tourmaline
Flexibility. Happiness. Objectivity. Compassion. Serenity. Balance. Positive transformation. Healing. Strength. Tolerance. Understanding.
Limited Edition Bi-Colour Tourmaline Butterfly Gold Pendant