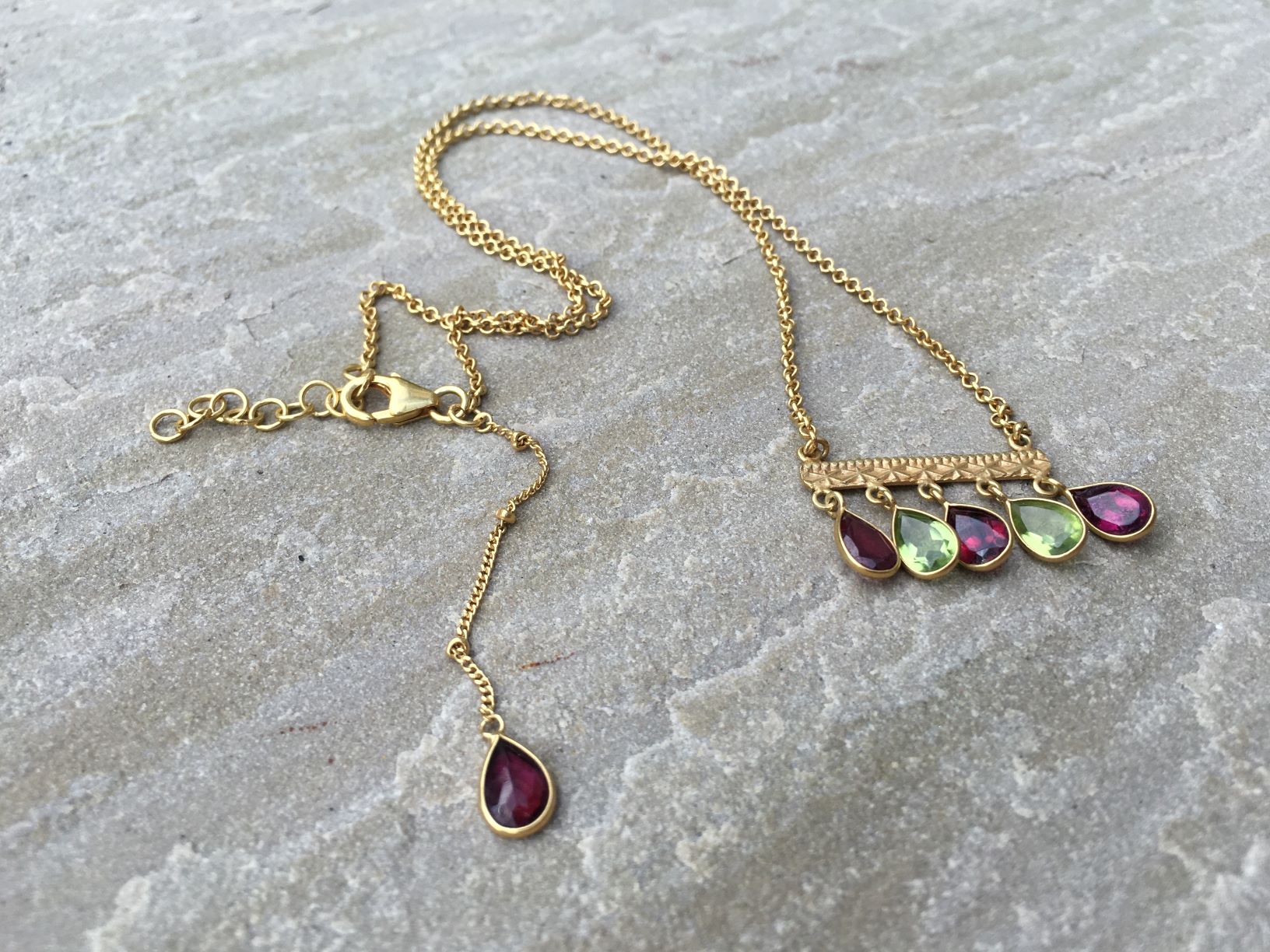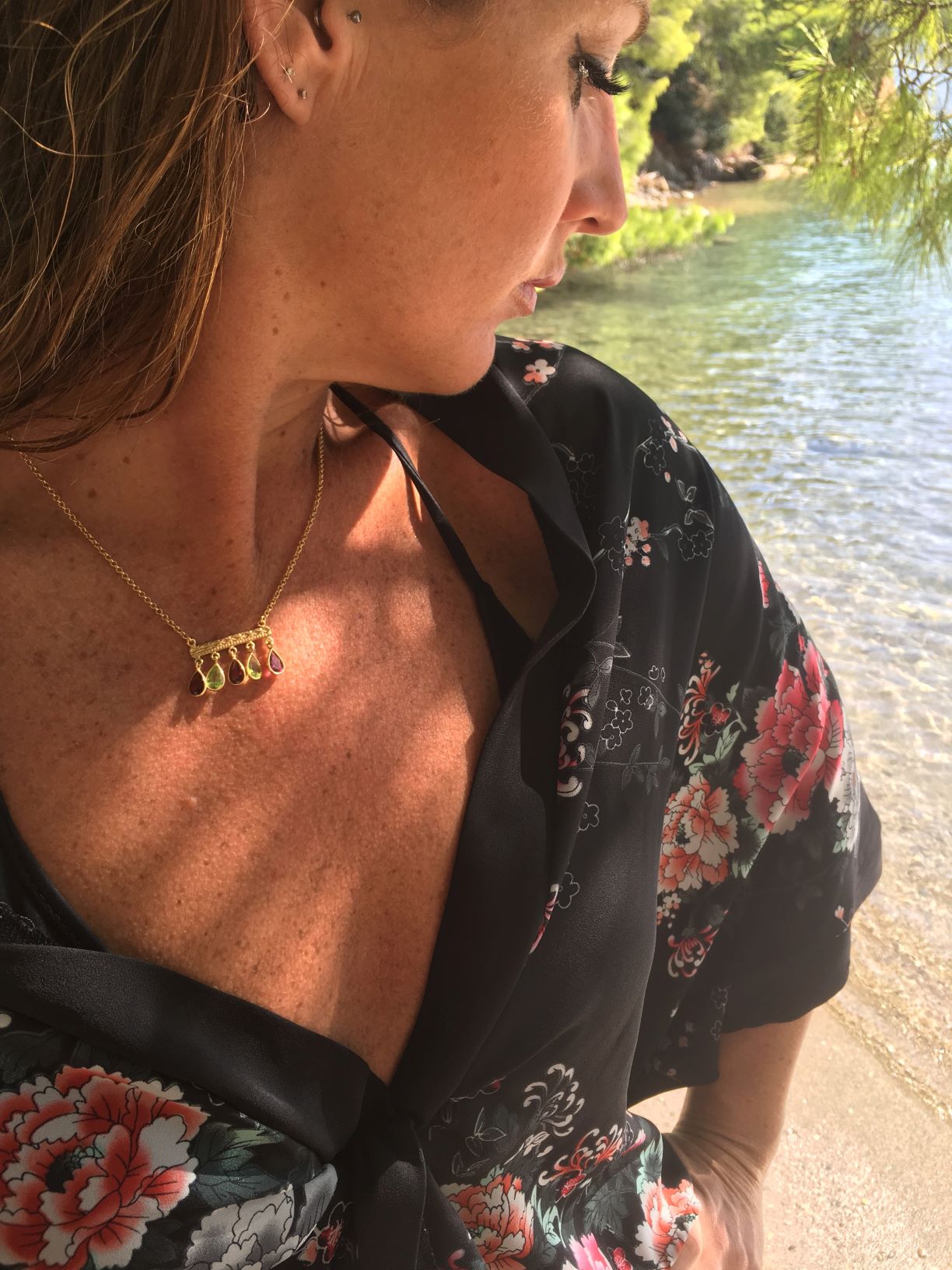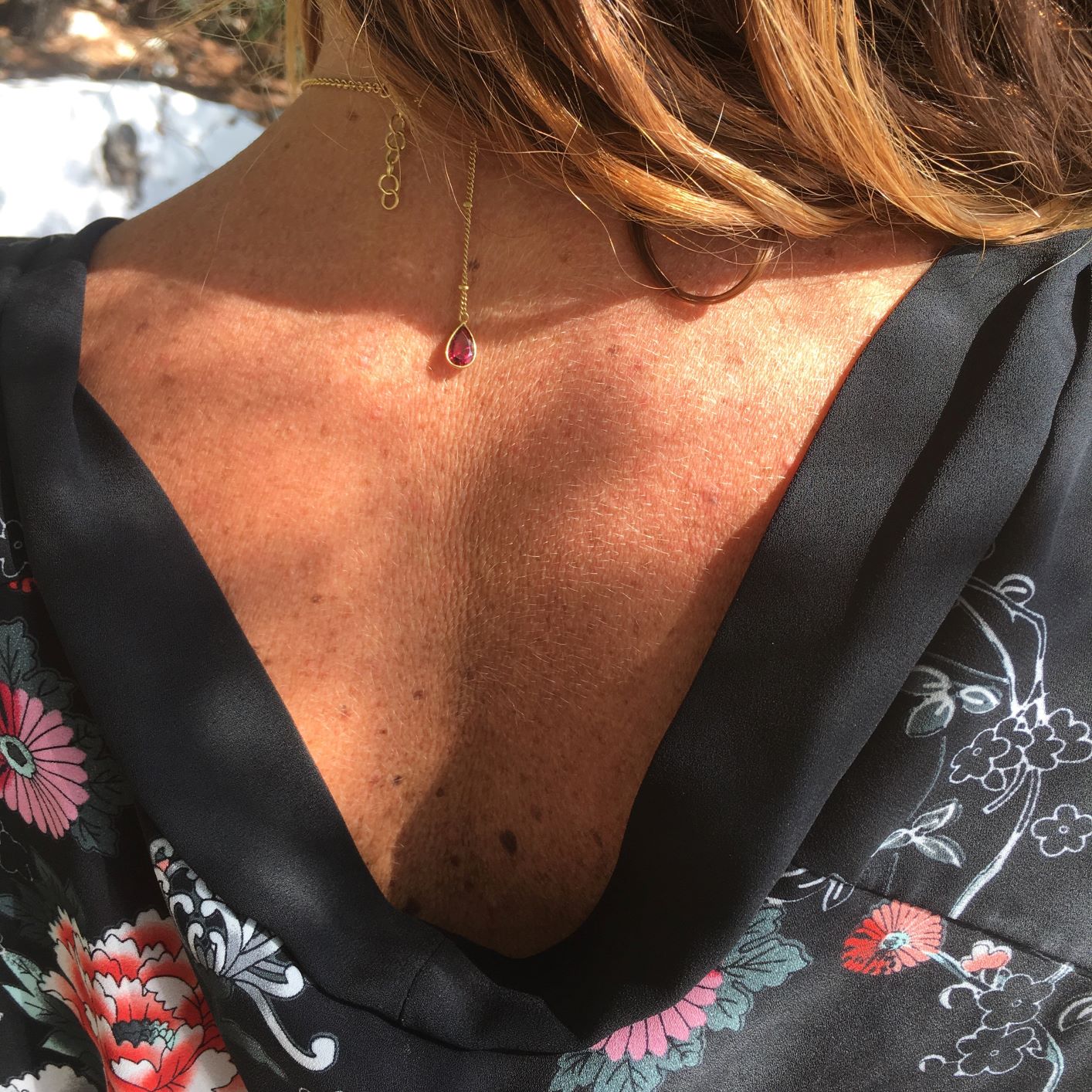 Silver & Gold Jaipur Princess Necklace With Garnet And Peridot
Scan the QR Code to view this product virtually in your space...
Our Jaipur Princess necklace really makes my heart sing. Decadent droplets of rhodolite garnet and peridot gemstones hang elegantly from a very pretty Rajasthani-style bar pendant.
Emanating ancient influence from Rajasthani design across the Pink City, Jaipur, this piece is a special necklace that resonates ancient Indian decadence with contemporary design. Finished with a pretty detail rhodolite droplet that hangs from the nape of the neck.
Handcrafted from silver and finished with gold vermeil. 
This stunning necklace combines beautifully with our Peridot Dew Drop Earrings, Peridot Knuckle Ring and Flower Chain Earrings from Jaipur Princess Collection.
If Peridot is your gemstone and truly speaks to your heart, have a visit to our bespoke Peridot Empress ring from Regal Collection, she is a cocktail ring to die for. 
Garnet Magic
The name Garnet is derived from 'granatus', the Latin word for seed or grain because of the stone's resemblance of a small round seed of a pomegranate.
Garnet is the birthstone of January, and my humble opinion, she is quite an underrated gem. Garnet is a truly wonderful stone. She has the power to purify the energies in your body, ridding you of all toxins - hello dry January - restoring your body to its revitalised and re-energised state. A wonderful stone for meditation, bringing divine order and clarity into your life, resolving uncertainty, refreshing your body, mind, and spirit - resetting yourself for a successful and victorious year ahead. Yes please to garnet. 
Peridot Magic
Peridot emits a warm and friendly energy. A wonderful cleansing gem to stimulate the heart and solar plexus chakras. She will open you up to love and new relationships. She will inspire happiness within you and help you embrace the uniqueness and preciousness of your life, steering you away from feeling jealous, bitter or resentful towards others. She will assist you in taking charge of your own life and making it what you want it to be rather than looking at others and wishing you had their treasure. You have and are the treasure, and garnet is the gemstone to help you connect to this universal truth. 
Jaipur Princess Collection Philosophy 
Jaipur is known as the 'Pink City' in India. The whole city is painted in a beautiful dusty pink and is abundant with the most exquisitely beautiful Indian women. Like individually beautiful flowers, they decorate the streets wearing Rajasthani jewellery. Every piece they wear looks original yet has this historical style and unique detail. Indian women decorate and celebrate their bodies with jewellery as much as they can. Their bodies are like floating temples of gemstone and jewellery, a living treasure box and such a feast for the eyes. Every piece they wear has a very pretty attention to detail.
I named this collection Jaipur Princess to echo the youthful elegance and beauty of these mysterious Rajasthani princesses, who glide the streets of the dusty pink city, Jaipur. Each one of us is a princess inside. Each design has a subtle touch of this unique and individual Rajasthani style of jewellery.
Anniversary
Peridot is a 16th anniversary gemstone 
Peridot Vibes
Chakras - Solar Plexus Chakra, Heart Chakra
Birthstone - August
Zodiac - Gemini, Leo, Virgo, Scorpio, Sagittarius
Typical colours - Olive green, bottle green, yellowish-green
Peridot Healing
Healing. Love. Transformation. Rejuvenation. Cleansing. Rebirth. Personal Growth. Awakening.
Garnet Vibes
Chakras -  Base Chakra, Heart Chakra
Birthstone -  January
Zodiac - Aries, Leo, Virgo
Typical colours - Most often seen in red, but available in virtually all colours, including: pink, green, orange, yellow, brown and black
Garnet Healing
Passion. Sensuality. Sexuality. Romantic love. Intimacy. Positive thoughts. Energy. Past life recall. Inspiration. Success. Social popularity. Self-confidence.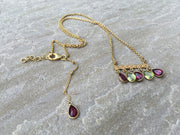 Silver & Gold Jaipur Princess Necklace With Garnet And Peridot