Champagne Diamond Ring - The King Of Crowns
The King of Crowns Ring
This exquisite ring boasts three carats of champagne diamonds. 

Materials
18 carat gold.
Please allow minimum 6 weeks for delivery.
Available in diamond, ruby and sapphire gemstones. Prices may vary.
Please email for further details.
Regal Philosophy 
Royalty adorned themselves with jewels for their protective healing powers and as a display of their own unique worthiness and power. You are a Queen. Whatever the circumstances you find yourself in, never let that crown slip from your head.

Diamond Vibes
Chakras - Crown Chakra
Birthstone – April
Zodiac - Aries, Taurus, Leo
Diamond is a 60th Anniversary gemstone

Diamond Anniversary
Diamond is a 60th Anniversary gemstone

Healing with Diamond
Purity. Harmony. Love. Abundance. Prosperity.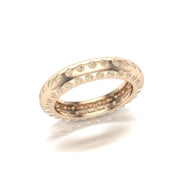 Champagne Diamond Ring - The King Of Crowns